In an attempt to cater to the Government's aim of increasing the income of farmers by 2022, the Bihar state government has introduced the Kisan Credit Card scheme (KCC). This credit card comes with a KCC loan of up to Rs. 3 Lakh without the requirement of hefty documents. Also, the government has asked financial institutions to issue KCC to the eligible farmers within 2 weeks of application to make financing faster. As per recent reports, there are around 6.65 Crore active Kisan Credit Cards offering crop loans at a subsidised interest rate.
Kisan Credit Card or KCC was launched in August 1998 by NABARD in collaboration with the Reserve Bank of India (RBI). KCC aims to reduce the hassles of informal borrowing and make affordable formal credits more accessible to the farmers. The primary purpose of introducing this scheme is to offer adequate loans to farmers and help them manage the expenses required in cultivation and other related costs.
Some of the essential things to know before applying for a credit card under KCC that help farmers fulfil both their household and professional requirements are: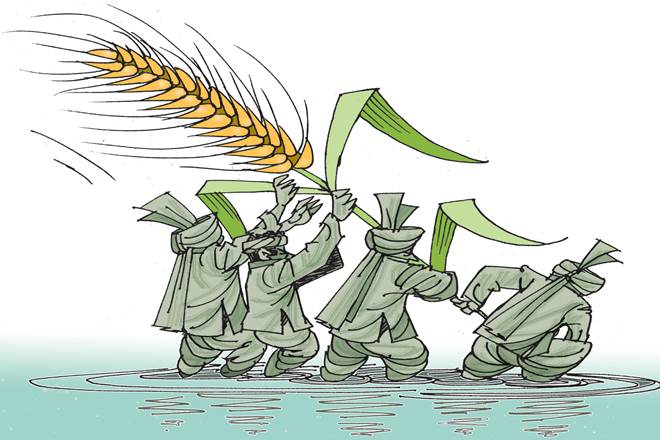 Subsidised interest rate
The effective interest rate KCC loan attracts was up to 9% under which the Government offers a subsidy of 2%, reducing the interest rate to 7%. The Government is also offering an incentive of 3% to farmers to help them repay the loan amount within due date which further reduces the interest rate and makes it 4%.
With such subsidised interest rates on credit card, it becomes easy for farmers to manage the finances of their household and cultivation.
Easy repayment method
The KCC loan amount is required to be repaid within a tenor of 5 years, depending on the investment amount under the existing investment guidelines and the type of activity. The tenor for repayment of term loan can also be extended depending on the types of investments.
Flexible credit card limit
As per RBI rules, the limit of credit cards will depend on your credit card issuer. Credit cards with a higher limit can also be availed against your land as collateral. In case you apply for credits against your property, the limit will be equal to or a percentage of the value of your land. Also, various financial companies may increase your credit card limit depending on your income.
Additionally, some other Kisan credit card benefits are:
Easy loan disbursement
A customised crop insurance scheme
Financial help for any losses due to natural calamities or pests
To apply for a credit card under KCC, you are required to meet its eligibility criteria as follows:
You are required to be between the ages of 18 and 75 years. In case of senior citizen applicants appointing a co-applicant is mandatory, where the co-applicant should be a legal heir.
Such credit cards are only offered to farmers (owners or joint cultivators), tenant farmers, sharecroppers, oral lessees, etc.
Alternatively, if you do not cater to the above-mentioned eligibility criteria or you are not a farmer yet require a credit card at affordable interest rates you can apply for credit cards like the Bajaj Finserv RBL Bank SuperCard against minimal documents and with benefits like robust security, online account access, welcome bonus, reward points, etc. This credit card also allows you to avail interest-free emergency loan of up to 90 days and ATM withdrawal at 0% interest.
This company also brings you pre-approved offers that are available on various financial products, including creditcards, home loans, business loans, personal loans, etc. These pre-approved offers were introduced to reduce the hassle of the application process and also to save time. You can check your pre-approved offer with ease by sharing minimal details like your name and phone number.
To enjoy the Kisan credit card benefits, you are required to submit specific documents at the time of application such as the application form (filled with your personal and financial details), PAN card, Aadhaar card, voter ID, driving license, ration card and land documents.