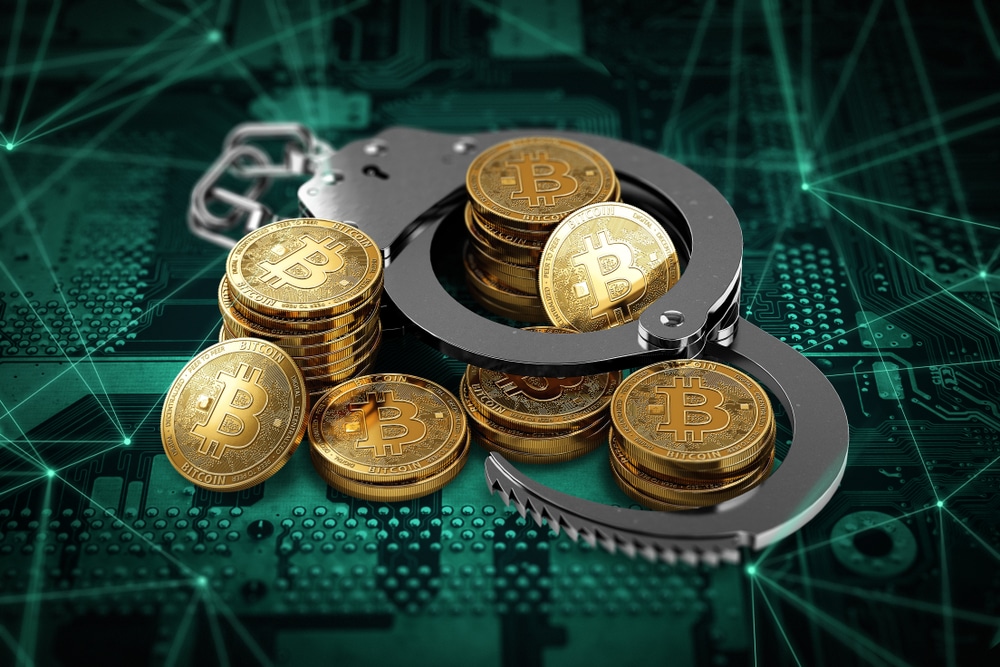 Ohio Man Handed Four-Year Imprisonment for Brother's $21M Bitcoins Theft
Gary James Harmon awaits a four-year imprisonment following the theft of his brother's crypto assets that law enforcers attempted to seize.
The United States Department of Justice announced Harmon's four-year-and-three-month imprisonment following the theft of 712 Bitcoin belonging to his brother.
Harmon Admits Culpability to Theft Charges
In January, Harmon pleaded guilty to all charges, with each count of wire fraud and justice obstruction that carry a combined maximum sentence of 40 years.
The current price of the 712 Bitcoin is more than $21 million. Harmon took it in February 2020 following his brother's arrest. The Justice Department revealed that their approximate worth was approximately 4.8 million dollars when stolen.
Larry Dean Harmon, Garry's brother, operated a coin-mixing service referred to as Helix that processed more than 350000 Bitcoin between 2014 and 2017. Additionally, the Justice Department claimed that he collaborated with several dark markets. These factors resulted in his arrest in February 2020.
Larry Violated FinCEN Through Money Laundering
Afterward, Larry pleaded guilty to conspiring to commit money laundering and charges linked to the inappropriate money transfer in 2021. Besides the criminal charges, The Financial Crimes Enforcement Network (FinCEN) imposed a 60-million-dollar fine. This was the initial penalty enforced against a Bitcoin mixer.
The Justice Department claimed that part of the prosecution involved seizing various assets, including a cryptocurrency storage device whose access was initially difficult owing to specific security elements. Gary could send himself Bitcoins via the recreation of Bitcoin wallets using his brother's information. The authorities also claimed that he later transferred the assets to two other mixing services.
Larry Forfeits Million-Dollar Bitcoins to Government
The Justice Department claimed that after agreeing to forfeit the assets arising from the illegally-acquired Bitcoins, he agreed to forfeit cryptocurrencies whose approximate total value was over 20 million dollars. This included an estimated 647 Bitcoin, 17.4 million Dogecoin, and just over 2 Ethereum. Despite coin mixers calling them critical tools for enhancing crypto transactions' privacy, government personnel has criticized the services by considering them vital to hackers and bad actors.
Tornado Cash a Gateway for Crypto Theft
Coin mixers complicate the fund's origin and destination by clustering different transactions. Last summer, the United States Treasury Department declared sanctions against the Tornado Cash coin mixer. As such, it prohibited citizens from using the application. The department claimed that Lazarus Group, a North Korean state-sponsored hacking company, was utilizing Tornado Cash. The intervention was widely criticized by several politicians, including Edward Snowden and Rep. Tom Emmer, who believed that this was crypto's 'do or die' moment.
Coin Center Criticizes Treasury for Blacklisting Platform
Coin Center is suing the Treasury Department for blacklisting the tool. Despite the pending trial, a recent ruling by a Dutch court stated that Alexey Pertsev, a Tornado Cash developer, could be released on bail following a nine-month detention. On Friday, he revealed his freedom via Twitter and wondered what had happened in the crypto space since his August arrest.
The Washington DC-headquartered firm, Coin Center, is challenging the Treasury Department before the Florida Court of Northern District for sanctioning the Tornado Cash. The crypto-oriented think tank is challenging the legality of the Office of Foreign Assets Control (OFAC) to enforce sanctions.
The suit rules out that OFAC has statutory authority to ban Tornado Cash, being an open-source platform. Coin Center alleges that OFAC's decision overlooked the Tornado Cash operates as a self-running protocol powered by software. The crypto-focused entity argues that the action infringes on the right to privacy as enshrined within the First Amendment.
The continued association of Tornado Cash with crypto theft is portraying the protocol as an infrastructure developed to facilitate the remittance of elicit digital wealth.
Coin Centre's case against the Treasury is set to weaken following Larry's conviction of leveraging the protocol to steal from his brother. Larry, guilty of conspiracy to launder money, portrays Tornado Cash as an instrument to execute criminal activities.