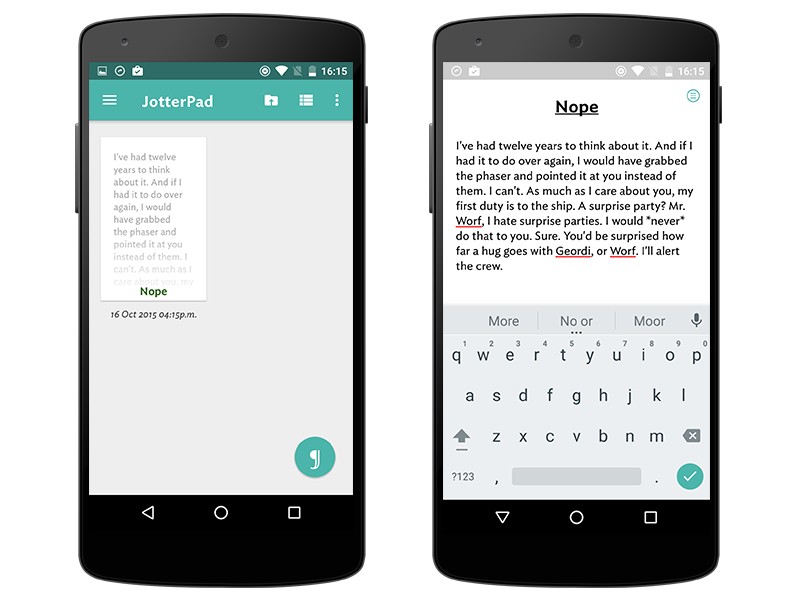 6 Best Writing Apps For Your Mobile Devices
Are you a person who wants to pen down everything on the go? Or someone who is always inspired to write your thoughts? Then this article will definitely inspire you to read! Here we discuss some of the best writing apps you can have on your mobile device, and keep writing! We live in an era where writing has become very much easier, as everyone writes and publishes from their phones, without any difficulties. But finding the best app that suits your needs is an important thing before you start to write. This article will help you choose the best writing app that unleashes the writer in you!
1. iA Writer
iA Writer is a markdown text editor initially developed in the year 2010 by the company Information Architects. This is a cross-platform app that is compatible with Android, iOS, macOS, and Windows. Using this markdown-based writer app, you can create documents only using keyboard commands. It provides a complete, distraction-free interface with a blue cursor and a gray background, which makes it more comfortable to write and free from procrastination.
Some of its important features are that it allows you to enable the typewriter mode, increasing your focus on the particular sentence or the paragraph you are writing and fading everything other paragraphs. It supports W3C Open Standard Micropub, which allows you to publish directly to personal websites or microblogging services.
2. Google Docs Google
Docs is a collaborative word processor developed by Google in the year 2006. Initially, it was a web application and a dedicated application to use on mobile operating systems, was developed in 2014. This is a WYSIWYG (What You See Is What You Get) application that has all the formatting options visible on the document.
This app is also a cross-platform app that allows you to use it in multiple operating systems such as Android, iOS, macOS, BlackBerry, and Windows. It serves as a collaborative tool that enables you to edit documents in real-time. The changes you make to a document are auto-saved, and the past edits can be viewed and reverted. It is a collaborative writing application that allows multiple users to collaborate, that can be accessed anywhere and anytime.
3. Evernote
Evernote is sophisticated and a minimal writing application developed by the Evernote Corporation. This cross-platform app allows you to take and organize notes in a variety of mobile operating systems such as android, iOS, macOS, and Windows. The notes can be of any of the formats such as text, photographs, drawings, saved web contents, or audio. It is also a WYSIWYG writing application that provides a distraction-free interface with all the functionalities of a typical word processor.
4. MS Word
Microsoft Word is a cross-platform writing software developed by Microsoft that can be used in operating systems such as android, macOS, iOS, and Windows. It is also a WYSIWYG writing application. Some of the important features of MS Word include, it provides templates for resumes, cover letters, and forms, which can also be edited according to your needs. Its main feature is the word art, using which you can create texts with graphical effects such as shadowing, rotating, stretching, and more. It also allows managing permissions and saves the documents in PDF format.
5. Pure Writer
The pure writer is a plain text editor that can be used on operating systems such as Android, macOS, and Windows. It is specially designed to provide a good user interface. It also facilitates the auto-save to save the changes made to the content. This app helps in recovering accidentally deleted documents. It offers to undo and redo features along with historical records.
The most important feature is that it allows you to create a text shortcut using which you can reuse a long word again and again by simply specifying a shortcut for that word at the beginning. This app also provides the typewriter mode that makes you more concentrated on what you type. The pure writer provides you with a distraction-free interface and makes you focus on writing.
6. JotterPad
JotterPad is an android writing application developed by the Two App Studio Pte. Ltd. It is specially designed for writing books, poems, essays, novels, screenplay, etc. It has different predefined formats, fonts for different kinds of write-ups such as novels, poems, etc. It has so many features, including the markdown, extended keyboard, dark theme, night vision, and cloud integration. It also provides a built-in dictionary that enables you to search for words easily.
Jotter pad allows you to convert the text files into multiple formats such as DOCX, TXT, PDF, and more. It provides you an easy search for phrases and to count words. It is also a WYSIWYG writing app that has formatting options within the document. We have discussed the six best writing apps for mobile devices and their features. The most common features of all the editors are distraction-free, cross-platform ability, ease of use, and more.
Choose the one which suits your needs better and bring out the writer in you! Inside a writer, there is mostly a reader. If you are a reader who loves fanfiction, short stories, and novels, or want to download them. You can discover this info here and relish reading them offline, with coffee. Because no one likes it when their dreamy world has interfered.a