Apple's share price remained virtually unchanged on Friday as financial markets sought orientation after an upheaval week marked by plenty of volatility. Investors were concerned about the dual vulnerabilities of the Fed trim and Evergrande contagion on Monday, and their concerns were reinforced on Tuesday as the market opened lower. Recovery was quickly realized, thanks in large part to the Federal Reserve's refusal to set a deadline for the end of its bond-tapering initiative. This permitted for a degree of risk-taking to seep the stock markets around the world, with the rallying cry of "buying the dip" once again being heard.
After all, as it has been mentioned, it appears that something has been modified this time around. This is the first time this year that a decline has been greater than the one that came before it. This represents a shift in the trend. Regardless of the basic characterization, traditional technical indicators imply that a lower drop and a lower high indicate the beginning of a classic downwards trend. With this latest decline, the top indices have yielded that result.
Apple has been in a declining trend since trying to break the $144.50 barrier on Monday, which resulted in a lower low for the stock. For the time being, it has just managed to hold onto the next support level at $141.67. Even though the stock initially opened lower on Friday, it steadily increased throughout the session, eventually closing near the day's high of $146.92, virtually unchanged on the day.
Stock Market Updates On Apple
The iPhone 13, which was released on Friday, is expected to be the only topic of discussion this week. Apple's earnings are driven by this, thus early results will be scrutinized. On Friday, Wedbush analyst Dan Ives told CNBC that early Asian demand for the iPhone 13 appeared to be up 12-13%. Pre-orders are up 20-30%, Ives says. If correct, these figures will fuel future revenue increases. Mobile phone carrier providers are offering substantial discounts, making an upgrade from an iPhone 12 costless in some situations, which is driving the expected super surge in iPhone 13 purchases. Massive investments in 5G networks require customers to pay back. Simply put, cheap iPhones are the easiest method to attract buyers.
Predictions for Apple's Stock
It may appear from the above that all is well in Apple's landscape, however, this is not the case. Yes, the stock is around its all-time peaks, but it has been in a textbook decline with lower highs and lows.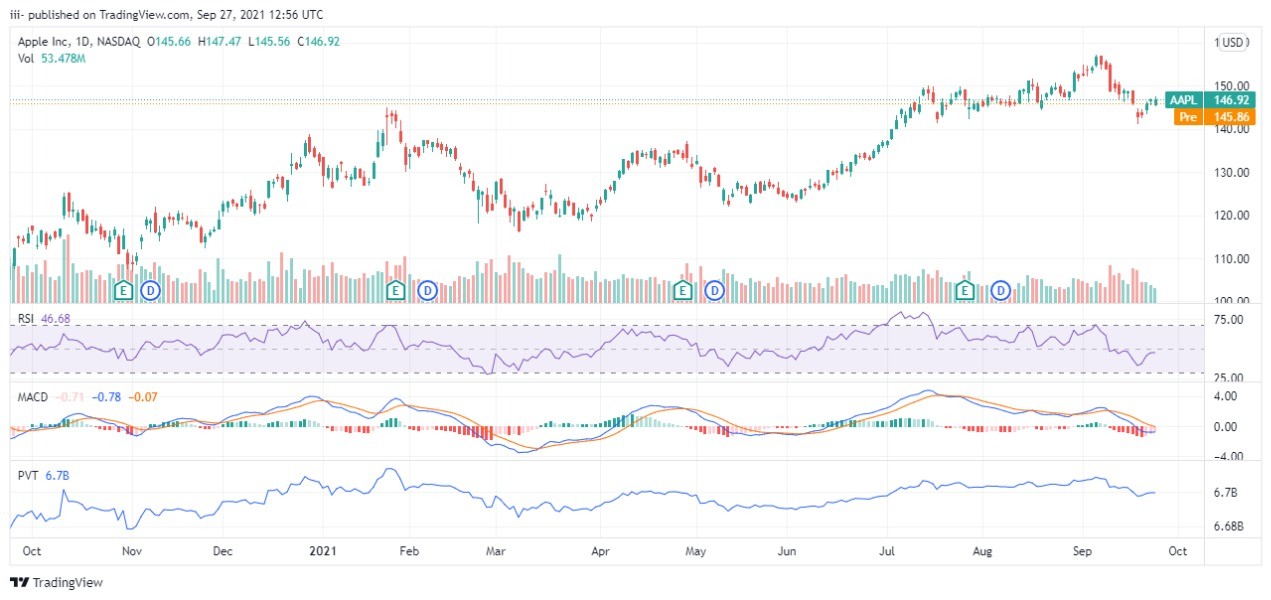 AAPL CHART Sourcing: Tradingview.com
The daily chart displays a definite decline channel. The disconnect between the restoration from Wednesday and the PVT indicator is also noteworthy. This indicator is a momentum amplifier, like On Balance Volume (OBV). If the price is higher than the previous close, volume is added, otherwise deducted. It tends to follow price action, but disparities can be strong.