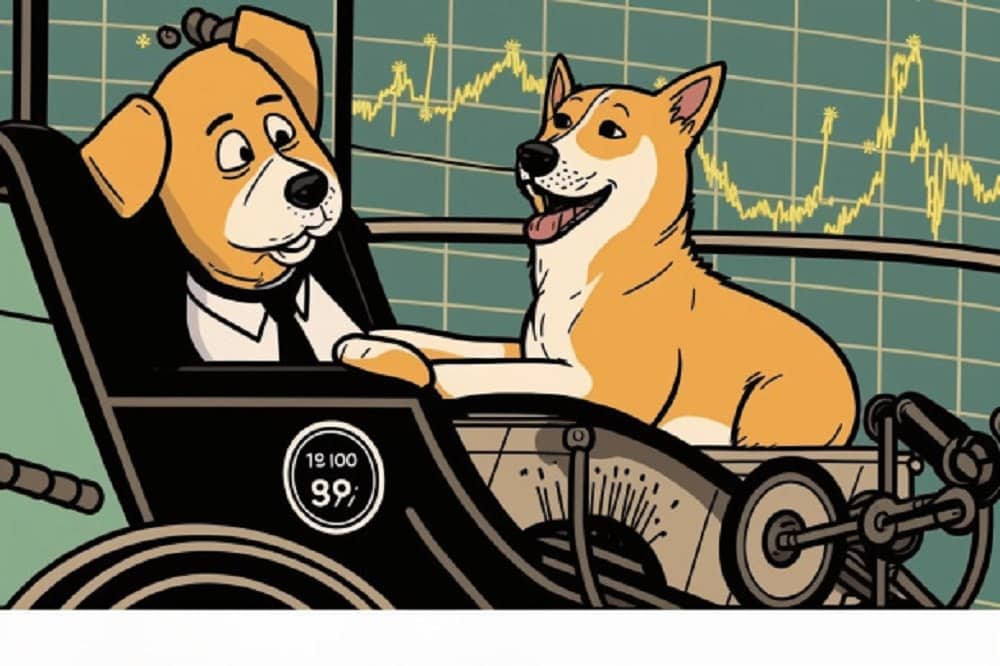 DOGE's Market Conditions Signal Potential for Price Reversal Despite Investor Concerns
Key Insights:
Based on previous trends and tweets from crypto trader Kaleo, Dogecoin (DOGE) is expected to experience a potential price increase on 4/20.
DOGE's price, market capitalization, and 24-hour trading volume have dropped ahead of "Dogeday" on 4/20.
Despite the downtrend, DOGE's oversold market circumstances signal a probable reversal.
A potential price increase for Dogecoin (DOGE) is expected tomorrow, based on a tweet from cryptocurrency trader Kaleo (@CryptoKaleo) that alludes to the coin's previous price surges April 20, also known as 4/20 within the DOGE community. This trend of DOGE price pumping on 4/20 is well-established, and Kaleo and others in the crypto community believe it may happen again.
Many people in the cryptocurrency community believe that Elon Musk, also known as the DogeFather, is responsible for the price pumps that occur on 4/20 as a satirical nod to one of his appearances on The Joe Rogan Experience.
When Musk was caught consuming marijuana while appearing on a popular podcast, it caused a stir among investors. Many cryptocurrency community members, including Kaleo, believe that Musk's substantial influence in the DOGE community and this incident could contribute to tomorrow's price increase.
At the time of writing, DOGE was priced at $0.08806, indicating a 5.76% decrease. Additionally, DOGE's market capitalization and 24-hour trading volume declined by 5.75% and 3.46%, respectively, reaching $12,236,351,303 and $1,015,694,809. Despite the buzz around the anticipated "Dogeday" on 4/20, expected to drive DOGE's price to $1, the price drop suggests investor apprehension.
DOGE/USD 24-hour price chart (Source: CoinMarketCap)
Oversold conditions in the DOGE market are indicated by the Fisher Transform line's position below the signal line on the 4-hour price chart, which now has a value of 0.90. The flip may be seen if the Fisher transforms line crosses the signal line at the right place.
The stochastic RSI on the 4-hour price chart is now at 28.25, below the signal line. This behavior indicates an oversold asset that may soon begin a bullish upward move. A possible trend reversal or change in direction may be suggested if the DOGE market's stochastic RSI passes the signal line.
DOGE/USD 4-hour price chart (Source: TradingView)
The negative trend in DOGE is supported by the Money Flow Index (MFI), which now stands at 48.74 and is heading down. Traders should use care when assessing long bets if the MFI keeps falling and falls below the oversold threshold. This shift may portend an even steeper decline in the near future.
The current value of the Relative Strength Index (RSI) is 39.49, putting it in oversold territory as it falls below the signal line. DOGE may continue to face temporary downward pressure. Traders may hesitate to begin an extended position until the RSI rises above its signal line and moves out of the oversold zone.
DOGE/USD 4-hour price chart (Source: TradingView)
Conclusion
Finally, the oversold market conditions in DOGE suggest a possible positive turnaround, although care is urged as the negative trend continues. Is there a chance that the 4/20 meme pump might boost DOGE's price or worsen the current downward trend?